Well folks, I'm back from my wedding and honeymoon, and of course, as anyone who has spent any time traveling overseas does, I must now inform you of my impending transition from financial planner to travel blogger. I'm kidding, of course, but I did think it would be helpful for folks to know a few financial tips and tricks related to making a trip to the other side of the world. So, without further ado, here are some things to think about if you'd like to travel to New Zealand or Bora Bora (French Polynesia).
Flights
There are 101 blogs on travel hacking or getting discounted flights, but here are a few things we used to improve the quality of your travel.
Because Denver is the headquarters hub for United, for the past several years I've used a United MileagePlus card for both business and personal expenses. Lest you think I'm endorsing paying credit card interest rates, these cards are always paid off as of the balance due date, which means they never accrue interest. Meanwhile, these cards cost $99/year and have saved us thousands on both personal and business flights. Some perks have included club passes, several free upgrades from economy to first class seats, and a dedicated concierge line for United flights if you need some help getting your flights changed or rescheduled.
In the case of the honeymoon, we flew first class from Denver to San Francisco to New Zealand for free, simply via airline miles accumulated through normal day-to-day spending for the business and personally. That's a lot of free comfort for a cumulative sixteen hours of time in the air! Now, on the return leg, we originally thought we'd be seated in economy seats for the eight-hour flight from Tahiti back to San Francisco, as we sadly didn't have the miles to pay for first class and each first class seat was over $7,000 per person on a one-way flight; a bit too rich for my blood! Yet, being a MileagePlus cardholder and United rewards member, we were able to spend 30,000 miles (about $300 cash value) and less than $500 cash to be on a refundable standby list for first class. The result? Upgraded flights for less than 1/10th the sticker price.
Cash and Cards
Speaking of credit cards: There is essentially no reason to use a currency conversion service. The kiosks you see in airports all over the country and around the world to convert hard currency typically charge anywhere from a 10%-20% commission on the conversion. Outrageous, I know. Yet, using your own bank debit card or a dedicated travel credit card to withdraw cash in a foreign country will often come with little to nothing in the way of fees, and typically a currency conversion rate within 1% of the going market for currency exchange (which is more representative of the costs of foreign exchange markets than anything your bank is charging you.) For that matter, most places you're going to travel in New Zealand and Bora Bora take cards, and neither country has a "tipping culture" the way we do in the United States, so often there's literally no need for cash.
A special note on this: Ubers in New Zealand were both significantly cheaper and significantly nicer than dedicated taxi services. When we first arrived, we paid $45 NZD for a less than 2-mile taxi ride to our rental car agency on the assumption that Uber or Lyft wouldn't work in New Zealand. A comparable uber would have been $8 NZD, and you could pay by your card on file rather than cash.
Renting Cars in New Zealand
We ended up going with an "off-brand" for car rentals in New Zealand out of ignorance of a local norm. Months before the trip to New Zealand, when researching car rental options, many familiar names like Budget, Avis, National, and Alamo came up. Yet, when you reached checkout, all of these would show a requirement of anywhere from a $2,000-$5,000 deposit requirement. Gulp, no thanks. When we found the off-brand, it made no mention of this practice in its pricing, so we went ahead with it. When we got to the rental counter, it turns out that a deposit equal to 1/10th the car value is customary for renting cars in all of New Zealand. This deposit is fully refundable or can be waived if you pay for the rental company's insurance, but seeing the sticker price of the deposit on the checkout screen had led us to rent from a less well-known brand. Just expect to have a deposit on your credit card, and go with a rental company you know and like.
The Plus Side of Renting Cars
Of course, the plus side of renting cars in New Zealand was an opportunity to see the stunning landscape. On our trip, we drove from Auckland down through New Plymoth, into Wellington, back up to Rotorua, and then returned to Auckland over the course of a week.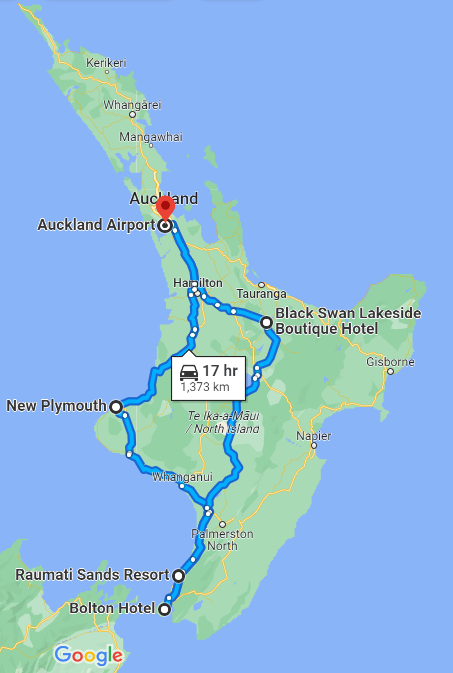 There's no better way to describe New Zealand then as simply gorgeous. The entirety of the countryside is endless rolling green hills, lush forests, and a quiet and peaceful landscape. The population of New Zealand is about 600,000 less than Colorado but it's almost the same square mileage (104,185 vs. 103,483), and the differences are enormous. Almost every road in New Zealand is a simple one-lane-each-way street, yet the traffic from place to place is almost non-existent. The drivers are incredibly polite (they actually drive in the slow lane by default), and other than the initial 30 minutes of getting used to driving on the left side of the road, travel is incredibly easy. Of course, you do pay for the privilege, as gas in New Zealand is around $7/gallon currently.
Still, renting afforded the opportunity to see the world-famous New Plymouth gardens, tour the special effects studio of Weta Workshop where the Lord of the Rings and many other feature films have all of their props and costumes created, another tour of the Hobbiton set from the Lord of the Rings and the Hobbit films on top of eating dinner in the actual Green Dragon Inn from the films, and enjoying local cultural experiences such as the native Maori villages hosted cultural lessons and tours.
Ultimately, we really couldn't recommend New Zealand more if we wanted to, and it really was the "There and Back Again" sort of experience Bilbo wrote about. We will likely spend the rest of our lives recommending a trip to just about everyone we know, so if you have any interest in it, go see Middle Earth!
Tropical Paradise
Of course, the latter half of our Honeymoon was spent in Bora Bora, which is a gorgeous and tiny island in the French Polynesian Archipelago. Bora Bora is a famous name because it was the home of the first tourist hotel and resort in the A08rchipelago, yielding the world-famous idea of the "overwater bungalow" for hotels. I'll say up front that despite the tropical paradise, New Zealand was far more a favorite than Bora Bora. So let me share the hows and whys of that experience for you.
Customs
Customs and border control in most countries involves spending 30-60 minutes in line, assuring the police that you're not smuggling drugs, and maybe having your bags thrown through a scanner one more time for good measure. Customs in Tahiti (the port of entry for international flights) involves standing in a short, packed, un-airconditioned hallway for 2-3 hours. For anyone traveling there, I'd strongly recommend bringing a bottle of water onto their plane so they can take it off with them to stay hydrated during the long wait.
Getting to Bora Bora
On a more pleasant turn, getting to Bora Bora involves taking one of their 12 flights a day from Tahiti over to the island. The flight is less than an hour, and taken in the daytime, presents you with beautiful views of many of the islands in the Archipelago as you fly over on your way. Once you arrive in Bora Bora, you'll land on a small island on the north side of the volcano. (Yes, Bora Bora is an ancient volcano; no it's not going to erupt.) From there, you can either take a free shuttle boat to Vaitape, the singular village on the island, or if you're staying at a resort, take their private boat to the resort. In terms of knowing where you want to stay and what you want to do, a bit of map drawing might help.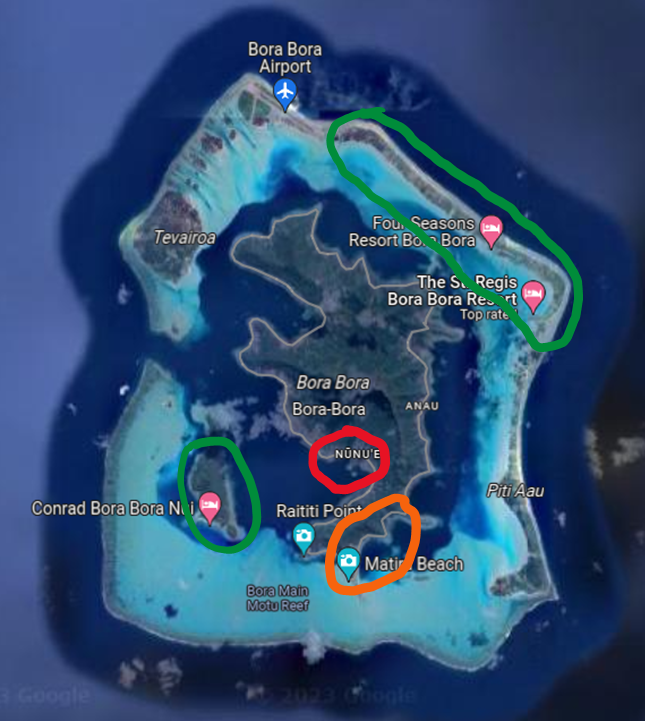 The areas circled in green are on the "Motu" or ring islands around the central mountain island. These are home to the more expensive and resort-esque hotels, which will cost around $2,000 a night and come with many more amenities and a more "all-inclusive" vibe, although nowhere in Bora Bora is actually "all-inclusive" in the sense of a resort like you might find in Mexico. Ultimately, these are great for anyone who doesn't really want to leave the resort during their trip, and is primarily focused on relaxation. The area circled in orange is where the mainland resorts are; these are all smaller and lower priced than the Motu resorts, but importantly, they give much more access to the island if you're interested in activities or getting out from the resort, as there's not as much to do at them. The red-circled area is the vicinity of Vaitape and the public port into Bora Bora. The village is probably less than half a mile end-to-end, but wraps around the bay and is home to most of the restaurants and stores on the island. If you're going into the village or leaving the village by Taxi, it costs about $20 one-way, though there are cars and bicycles for rent on the island for a reasonable fee.
The rest of the main island is private residences and homes of the locals. There's a single road leading around the island, but most land ownership on the island is akin to a pie chart. Families will own land from the beach and upward toward the central mountain on the island, with various generations building homes further up the mountain as the family grows, until the eldest passes away and their youngest adult descendants inherit their home, and the cycle restarts. The island is so small that they didn't even have a high school on the island until a few years ago, with most teenagers having to live in a boarding school on a nearby island to complete their primary education.
Activities in Bora Bora
As the locale might suggest, almost everything you can do is water-based. While there are some 4-wheeling, ATV, and hiking tours available on the main island, the local economy thrives on snorkeling, diving, and other boating-related activities. The easiest recommendation we can make here is to schedule a morning activity and an afternoon or evening activity, as most events and vendors break their entertainment up into a "half-day" and "full-day" offering. In our experience, the full-day versions of most things weren't really worth it (the best part would be 80% in the first half), but the half-days were great.
One thing to be aware of in Bora Bora is that while the exchange rate is terrific (about $1 equates to 113 French Polynesian Francs), the price of everything in Bora Bora is about 2-4x as much as it would be in the United States. This isn't purely luxury resort inflation, but a genuinely high cost of living on the isolated island. Something as innocuous as a bottle of coke might cost $3.50 in US terms or a 750ml bottle of Jack Daniels might cost $65 in a store. As a result, when eating out, almost every meal is going to cost you easily $100 or more even with the beneficial exchange rates, and that's a hidden cost to prepare for!
Ultimately, having spent eight days in Bora Bora, we'd suggest going for no more than 4-5 days, and simply packing those days full of activities. Bring SPF 70 sunscreen, buy a dorky wicker hat, and prepare to use them a lot to stay that busy without getting burnt to a crisp. But you'll find that the days go quickly when you're swimming with black-tipped sharks, sting rays, and whales for hours on end.
Other Adventures
Ultimately, our experience down under was fantastic. We had a wonderful wedding and were blessed to take a truly memorable honeymoon, and we have you, our community, and clients, to thank for it. In the future, as Kaitlyn and I travel more, we'll be sure to share our two cents on the other places we're able to visit, and we hope you'll share your own experiences and lessons learned in world traveling with us!